New IGP for Italy, the Burrata di Andria.
article read on formaggio.it
The Burrata is a fresh cheese with spun dough with cream.
Burrata di Andria IGP was born, the second protected geographical indication for cheese after the IGP Canestrato di Moliterno, just happens both specialties of the south of Italy that works. Article 3.2 of the production regulations approved by the CE reads as follows:
Burrata di Andria IGP is a cheese made from cow's milk and obtained from the union of cream and cheese made of spun dough. The envelope consists exclusively of spun dough that contains, inside, a mixture of cream and frayed spun dough.

A cheese from Puglia that reaches Europe, we hope, to reach the tables of all Italians and why not the whole of European citizens.
The Burrata was born in the early 1900s by the genius of Lorenzo Bianchini to preserve milk and cream, which could not be delivered due to a strong snowfall. He emulated the Manteca, spun dough cheese containing butter. Since then the burrata continues to give satisfaction to the consumer and, of course, the manufacturer.

Puglia counts in dairy products several denomination of origin cheeses such as DOP Canestrato Pugliese, in part of the region DOP Mozzarella di Bufala, as well as DOP Caciocavallo Silano and DOP Ricotta di Bufala, and many other cheeses registered as traditional agricultural food production (PAT).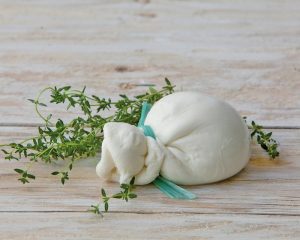 Burrata di Andria comes to complete, in order to the high level agri-food industry, the apulian dairy tradition.