Novello wine, carbonic maceration and beaujolais nouveau.
  it is a news by La Fillossera – lafillossera.com
The tradition of novello wine has also spread in Italy, but there are many differences with the French cousin beaujolais nouveau.
Beaujolais nouveau or primeur wine is the new wine produced in the French region of Beaujolais which is an AOC area, or appellation of origin contrôlée, similar to the Italian DOC, near Lyon.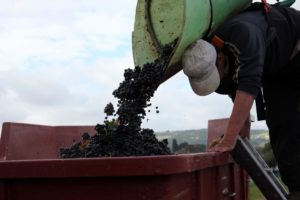 The grape used to obtain the beaujolais nouveau wine is Gamay. The technique used for the production is carbon maceration.
What does it mean with this technique? Carbonic maceration consists in placing whole grape bunches in steel containers previously saturated with carbon dioxide. In the absence of oxygen, the grapes modify their metabolism by starting intracellular fermentation (yeast on the skins, in fact, are aerobic organisms and "fed" oxygen penetrate inside the grapes). The skins yield their colored pigments to the pulp, increase the glycerin along with the demolition of malic acid and volatile compounds are formed.
Maceration may last from 5 to 20 days at about 25 ° / 30 °. The grapes are then pressed and the must started at normal alcoholic fermentation.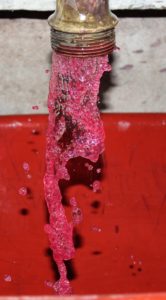 Which are the characteristics of the wine obtained with carbonic maceration?
With this technique a soft wine is obtained, with a low content of tannins, in which smells are dominated by primary aromas and an alcoholic strength of not more than 11%.
Organoleptically the beaujolais nouveau wine has a brilliant red color with purple reflections, an aromatic bouquet characterized by a fresh fruity,  easily drinkable and a little persistant. It can be served fresh like a white wine. For its characteristics, it must be consumed in a short time, at most within six months of bottling.
Beaujolais nouveau wine in France can be marketed from 6 November and bottled until 31 December of the vintage year.
And in Italy? The tradition of novello wine has also spread to Italy, but there are many differences with the French cousin. In Italy, in fact, any vine can be used and carbon maceration can also cover only 40% of the grapes. Also since 2012 the novello wine can be marketed starting from 00.01 on October 30th. The total minimum alcoholic strength by volume shall not be less than 11% vol. and the maximum residue limit for residual reducing sugars must not exceed 10 g / l.
Generally speaking, Italian novello wine is a marketing tactic rather than a product of our tradition and it have not to be confused with new wine because, as explained, it involve a different production technique.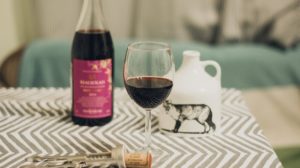 It matches well with chestnuts for a seasonal mix, but it can also pair with cold cuts and cheeses not too seasoned and aromatic.