arcobaleno in Dispensa: workshop, exibition and meeting. On October 6 and 7 in Santeramo in Colle (Bari, Puglia).
it is a project by Lab Dispensa dei Tipici – lab.dispensadeitipici.it
Dispensa dei Tipici (www.dispensadeitipici.it) propose arcobaleno in Dispensa #1 on October 2018, Saturday 6 and Sunday 7, in Santeramo in colle (Bari, Puglia):
workshop with clay craftwork by Giú in Lab;
workshop with woolsheep of local sheeps of Apulia by Pecore Attive;
workshop with natural cosmetics by La Cosmottega;
worskshop to extract and paint with natural colors from Murgia's flowers and plants by Studio AK;
exhibition and meetings around biodiversity by Fondazione ITS Agroalimentare Puglia;
exhibition and meetings about illustration and poems by Alessio Magistro ed Elvira Fraccalvieri.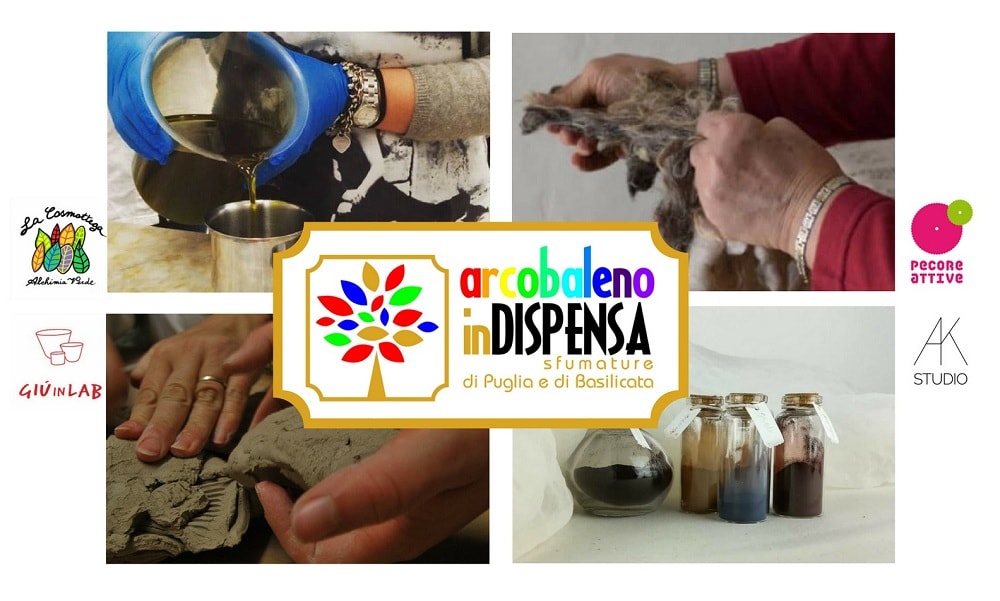 arcobaleno in Dispensa – sfumature di Puglia e di Basilicata was born as an event in which we propose workshop, exibition and meeting around ariculture, crafts and art.Our aim is educating the user of the event, as it is citizen, or consumer or tourist.Details>
http://lab.dispensadeitipici.it
Contacts: Dispensa dei Tipici area Marketing, Comunicazione, PR info@dispensadeitipici.it +39 3934628548 www.dispensadeitipici.it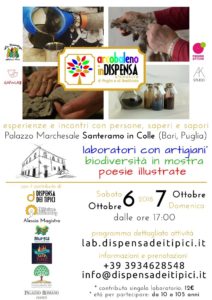 + info about Lab Dispensa dei Tipici
+ info about prject arcobaleno in Dispensa