Olio, Vino, Trallallá… waiting for San Martino. Happy things will happen at Cantine Cannito on November 4. In Grumo Appula (Bari, Puglia).
it is a project included into Lab Dispensa dei Tipici – lab.dispensadeitipici.it
Cantine Cannito invites you to spend a day in nature, carefree and fun, among olive trees, vineyards and many activities, on Sunday November 2018, 4 .
Olio, Vino, Trallallá … waiting for San Martino in Cantine Cannito is a feast for people that got all tastes and got all ages, even for families with children.
– Join Facebook event >http://bit.ly/DdTiMlY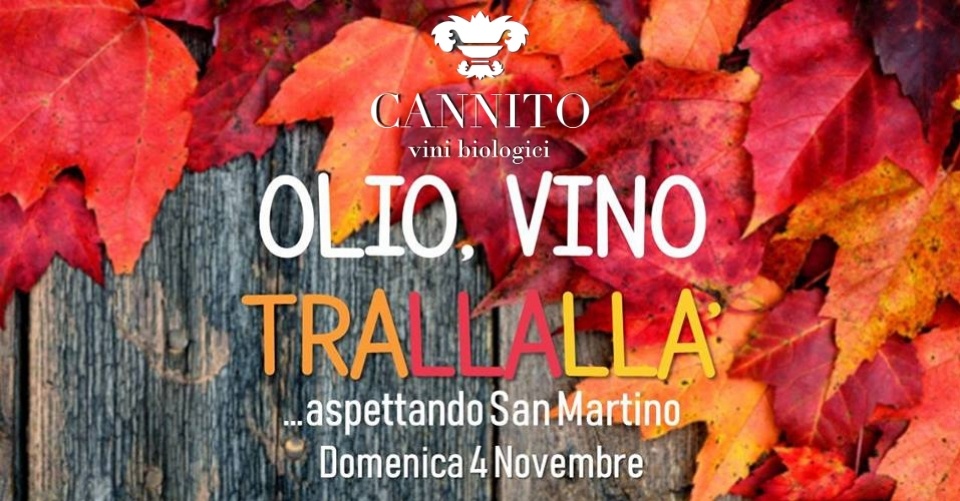 ━━━ IDEA ━━━
With the support of partners of the Network Dispensa dei Tipici we recreate the atmosphere of a feast to let you immerse yourself for a few hours in the Apulian nature, its colors and its perfumes, far from the frenzy of the country and the city.
Among music, dances, markets and cultural entertainment designed for young and old people, there will also be space for culinary delights: roasted meat, pasta, panzerotti and almond cakes.
━━━ VENUE ━━━
The event will take place at Cantine Cannito, in Grumo Appula (Bari, Puglia) address strada vicinale Macerano, 13.
indicazioni GPS> 40.960888, 16.703852 (http://bit.ly/DdTiBOB)
━━━ PRACTICAL INFO ━━━
Free entry.
Partners will prepare for customers delicious food and beverage .
It is forbidden to introduce food and drinks from the outside.
info> Cantine Cannito – +39 080 623529 – info@agricolacannito.it
info> Dispensa dei Tipici – +39 3934628548 – info@dispensadeitipici.it
━━━ PROGRAM OF ACTIVITIES ━━━
all day longGUIDED WINERY AND OLIVE MILL
– to learn about Cannito's wine and olive oil productionWINE
– Primitivo di Gioia, Rosato and Minutolo: the wines produced by Cantine Cannito

FOOD AND BEVERAGES
– orecchiette, cavatelli, panzerotti, bombette di Martina Franca pork meat, Almond sweets

MARKETI SHOW ABOUT ARTS AND CRAFTS
– to meet handcare and creativity about tastes and tought artisans

KIDS ARE WELCOME
– playroom for kids with professional staff

WORKSHOP AND DANCING
– folk music, popular and traditional music
from 11:00 to 12:30
LIVE EXTRA VERGINE
– to get involved with Cannito's Olive Mill to take part to the process to produce extra virgin olive oil starting from the olives
from 12:00 to 13:00
CULTURAL APERITIVO
– cultural tastings and talkings with books and poems writers
from 15:00 to 16:00
AGRI-CULTURAL WALKING
– walking crossing vineyard, olivetree and fruit tree plants, with talkings about beauty
from 18:00 to 21:00
LIVE MUSIC
– Rock'n'Roll, to enjoy chatting, listening, dancig.
More info about all activities:
– on website http://lab.dispensadeitipici.it
━━━ PARTNERS ━━━
– Cantine Cannito
– Dispensa dei Tipicii
– arcobaleno in Dispensa
– Circus Eventi
– U Panaridde
– COOLtura on the Road
– Palazzo Romano Eventi meeting, cultura & società
– Salumi Martina Franca SRL
– ISA
– Masserie Didattiche
– Nicola e Valeria
– Mele Caffè
– I Luoghi di Pitti
– Bitù PartyPlanner
– …more nice People!
More info about partners:
– on website http://lab.dispensadeitipici.it
---
+ info about Lab Dispensa dei Tipici
+ info about project Olio, Vino, Trallallá