September 6, 2017 | Music | @New Sound, Bari, Apulia, Italy..
 it's an event by Nel Gioco del Jazz
Presentation of music season Ecotopia 2017/2018.
h 11:30 @ New Sound, corso Cavour 26, Bari, Apulia, Italy.
Info: www.nelgiocodeljazz.it – info@nelgiocodeljazz.it – Tel. 3389031130 – 3387084423
Wednesday 6 September 2017 at New Sound at Bari in Corso Cavour 26 at 11:30, Nel Gioco del Jazz presents its IX Music Review: ECOTOPIA 2017/2018.
Members of the AssociationNel Gioco del Jazz will also be present starting by 6.30 pm, at New Sound in Bari, to provide information about the event's appointments and subscriptions.
Free entry.
Also for this musical season Nel Gioco del Jazz renew the collaboration with Dispensa dei Tipici which will be present the various events to introduce a selection of wines, extra virgin olive oil and typical products of Puglia and Basilicata.
During this presentation, there will be available for tasting some wines from the following producers:
Wines that are also a food and gourmet gadget which the association Nel Gioco del Jazz will present to new subscribers (more info on the link> https://dispensadeitipici.it/magazine/un-brindisi-gli-abbonati-nel-gioco-del-jazz ).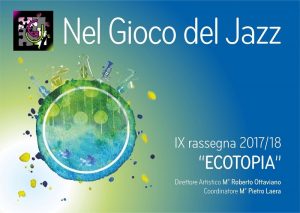 More details about the music season will be revealed after the presentation.